Adjustable Massage Table Bed
Unique 3-section Design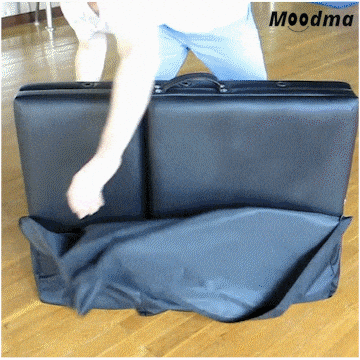 Enjoy a more comfortable massage experience with the flexible design, suitable for different positions and massage skills.
Features Of The Portable Massage Table
Flexible Headrest
The headrest well cradles the faces and neck curves of different users with its adjustable design (90°adjustable) for customized comfort.
Backrest Design
The massage table is of 3 sections with the back part being liftable (maximum angle: 55°), which helps accommodate more positions.
Height Adjustment
The height of the massage bed can be adjusted (24-34.6in) via the fixing knobs easily, an ideal design for therapists of different heights.
Deluxe PVC Leather
PVC leather covering, skin-friendly and extra soft, contact you harmoniously and comfortably while ensuring easy maintenance, requiring only a simple wipe.
Premium Foam Padding
Filled with highly dense and resilient flame-retardant foam padding to support the whole body with uniform pressure, softer for an enhanced massage experience.
Solid Wooden Legs
The wooden legs, being specially fumigated and backed, boast of improved durability and stability. The anti-slip pads well prevent unwanted slides during use.
High Weight Capacity
The massage table will accommodate working weight up to 551lb with solid legs, thickened frame, reinforcement panels, and high-tensile wire ropes.
Detachable Accessories
With accessories that can be easily installed or detached, more comfort can be provided for clients with individual massage needs.
Portable And Lightweight
Due to the foldable design, the massage table is easy to carry around, especially for mobile therapists. The whole massage bed will become a portable case with clasps after folding. If you want it for home use, it also saves space when not in use.
Specifications:
Materials: Beech Wood Leg + Composite Board + Cushion (Plywood + Non-woven Fabrics + Foam + PVC )
Color: Pink/Burgundy/Black
Unfold Size: 84 x 32.3 x 25.2-33.7inches (L x W x H)
Folding Size: 36.4 x 23.6 x 7.3inch (L x W x H)
Headrest Size: 11 x 10.4 x 3inch (L x W x H)
Armrest Size: 14 x 4.3 x 2inch (L x W x H)
The Thickness of Foam: 2inch
G.W.: 37.6lb
Max. Load Bearing: static, 551.2lb; dynamic, 220lb
Shipping & Handling Times
Returns And Exchanges